The Things To Remember To Become A Photojournalist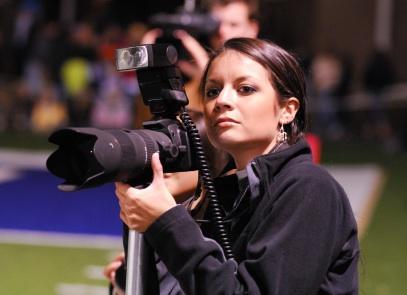 Photojournalism is a competitive field and it is centered on a product that's considered as the subjective. Learn about the prerequisites of becoming a photojournalist from one of the best in the field, Rocco Basile. He is a photojournalist and an expert in Documentary and fine art photography.
What's being photojournalist all about?
The life of a photojournalist involves a lot of traveling clicking photographs, either for narrating a story through your pictures for magazines or news articles or to provide a visual accompaniment to articles. You may also be responsible for the development, editing and preparation of your photographs for publication. You can work as a freelancer or an employee for magazine or newspaper, either way it involves stiff competition and hard work.
Educational prerequisites
You don't need a degree to be a photojournalist but a graduate degree enhances the potential of employability. You can pursue a Bachelor's degree program in Photojournalism so that you have a strong basis for your career. The program includes topics like picture story, magazine design, news reporting, visual editing and communication, electronic photojournalism etc. In the absence of a photojournalism program, you can choose to minor in journalism and major in photography.
Internship and portfolio
An internship is a necessity for a career in Photojournalism. The Bachelor's degree program provides you this opportunity. A portfolio will be needed before you seek to work as a photojournalist. It may include your best photos from school assignments or projects or school newspaper. The photos should be replaced with more professional work as you gain experience. A portfolio is a window of your capabilities, expertise and experience for a prospective employer.
The photography equipment's
The quality of your photography gear will reflect greatly on your work. This makes investing in professional grade equipment's a necessity for your budding career. You can start with older models of gear used by professionals to minimize the investment. A basic gear should at least include the following
A camera body that's professional quality
A Telephoto lens (70-200mm, f2.8)
Wide Angle Lens (17mm, f2.8)
A computer and related accessories
Object of photos and sharing the photos
Photojournalism is basically the visual documentation of the happenings around us. If you make people, the object of your photos it basically adheres to the basis of Photojournalism. People going through their life illustrate whatever happens around them.
Submitting you photos so that it can get noticed by someone willing to publish it is necessary to get a break in getting your photographs published. Another method is sharing your photos with editors from local newspapers. For this you can contact them and email them your photos or create a website with samples of your photos and your contact details and email the links to the editors. The website will provide you with much needed advertising and a professional outlook.
Persistence and perseverance is a necessary trait for a budding photojournalist. According to Rocco Basile, a well-known name in Photojournalism and counselor for the aspiring photojournalists, you have to constantly and consistently stay in contact with editors even when they don't reply. If there's no reply from the editor, it doesn't mean you were not noticed and your persistence may pay when one of your photos is picked by them. You should try to model yourself around the successful professionals in Photojournalism. You may acquire traits that will help you get better and in time, successful.